Trade show booths can sometimes feel too constraining and limited, but if you pick and apply the right strategy, it can be a great vehicle for effective marketing and would surely generate more sales for your business.
From an attendees' perspective, trade show booths are a fun and unique way to test a product or get to know a company even more. Rather than setting up a plain old boring meeting at a coffee shop, attendees or potential clients can simply walk through exhibit booths and see the products up-close.
On top of that, having several trade show booths in one convention or area is an economical and efficient way to get to know several companies in one go. Attendees no longer have to book individual meetings if they are planning to check out several products or services simultaneously. They can simply visit the booth and have an initial discussion or presentation with a product or service specialist.
As for the exhibitors, events that have trade show booths are a goldmine for leads and potential customers. With the help of events like these, exhibitors or business owners would be able to generate more leads as well as establish a more personal relationship with a potential customer.
Is it worth it?
Having a trade show booth is always worth it as long as you keep track of your objective and have the right marketing strategy. Without these basic things, your booth would not even fly on the first day of the event.
Trade show booths are a perfect way to showcase and introduce your products to the public. If you are planning to launch a new product or are simply new in the industry, then attending trade show events can help generate buzz for your products.
Since people would actually be testing or getting an upclose demonstration from your team, then it would surely help get the ball rolling and make several people interested about your product.
On top of that, attending a trade show event would also be beneficial for your business because you would be able to get to know your competitors a lot better. Given that the main purpose of a trade show or exhibit is to bring people from the same/related industry, you would be able to get to know several people from the same industry.
This would surely put you in an advantageous position in the long run because aside from potential customers, you might also meet some of your future employees. Considering that professionals and employees usually just jump ship to the same industry, you might be able to form a connection when you attend events like this.
Elements of Trade Show Booths
Without careful planning and attention to the details, your trade show booth might not have even one attendees. So to help you avoid this and to attract more people to visit your booth, we have listed some of the key elements that you should take note of.
Location
If you are planning to participate in a convention by having a trade show booth, then we highly advise you to pick the perfect location in the convention centre.
As much as possible, try to pick a location where there is heavy and multiple traffic flow. This way, your booth would have better visibility and people are more likely to double take and check out your booth.
Contrary to other events, being near the restroom can have a lot of perks when it comes to trade shows. Given that there are several booths in the convention, attendees cannot possibly check them all out in a single day. So by simply being near the restroom, you would get a lot of foot traffic and people would definitely notice your booth.
Another great location for your trade show booth is near the big brands or the sponsor company. Given that these brands usually go all out when it comes to their trade show booths, being next to them would increase foot traffic to your booth.
Lastly, being next to the entrance would likely not benefit you. Even though this location has the most traffic flow, attendees would simply pass by your booth and you have less chance of striking a conversation with them. However, this does not mean that you should avoid the entrance all together. You can still capture the attendees attention and strike a conversation with them if you have the other elements we would mention.
Booth Display
If your booth is creative and unique enough that warrants people a second look, then it might be best to place it near the entrance.
Since you only have a few seconds to impress and capture an attendees' attention, then you really have to make it count. Your visuals and the way you arrange your booth is the first thing they would see. With that, you should be more creative and try to think of ways to capture their attention. You can put led lights, hanging signs, banners, monitors, tabletop displays, digital signage, kiosks, and so on.
Stick around and read further. We have listed a few examples of trade show booths that you can try to emulate.
Staff
If you neither have the perfect location or the grandest booth in the convention, then you should try and make up for it with your staff. Since your main goal is to have a conversation and get more involved in your booth, then choosing the right staff is a key step if you want to accomplish all of this.
Apart from the location and overall look of your booth, your staff is the one who would provide a lasting image for your brand or products. Given that they are the ones talking and engaging with the attendees, they are like the ambassador or influencer for your brand.
Your staff influences the attendees more than any other factor or elements found in your booth. They are essentially the front of your brand. That being said, you should make sure that your front is engaging enough to get people interested in your product.
To find the perfect staff for your trade show booth hire us today!
Event
Another critical element that you need to look out for when hosting or participating in a trade show is the actual or main event. Considering that there are hundreds and thousands of trade show events being held in the United States each year, you need to choose the best one that would fit with your overall marketing campaign.
Picking the right event is crucial because the main event or program are what usually drives a lot of attendees to attend. Even though the trade show booths are often highlighted in conventions, the main event still completes the overall atmosphere of your booth.
Even though it might be tempting to go all-out and attend big conferences, we still highly suggest you check out small conventions or trade shows. Events like these are especially useful if you have a niche or market you want to target.
Needless to say, a bigger audience is not always better. There are instances when smaller events were able to surpass and generate more ROI than bigger events. That being said, you should do a lot of research and budgeting first before you register to any trade shows or conventions.
Booth concepts and ideas
Ok, that's enough theory! How about some real-life examples?
Below you will find a variety of trade show booths done by successful brands. We're going to highlight one key feature that makes their booth a success.
Attendees Participation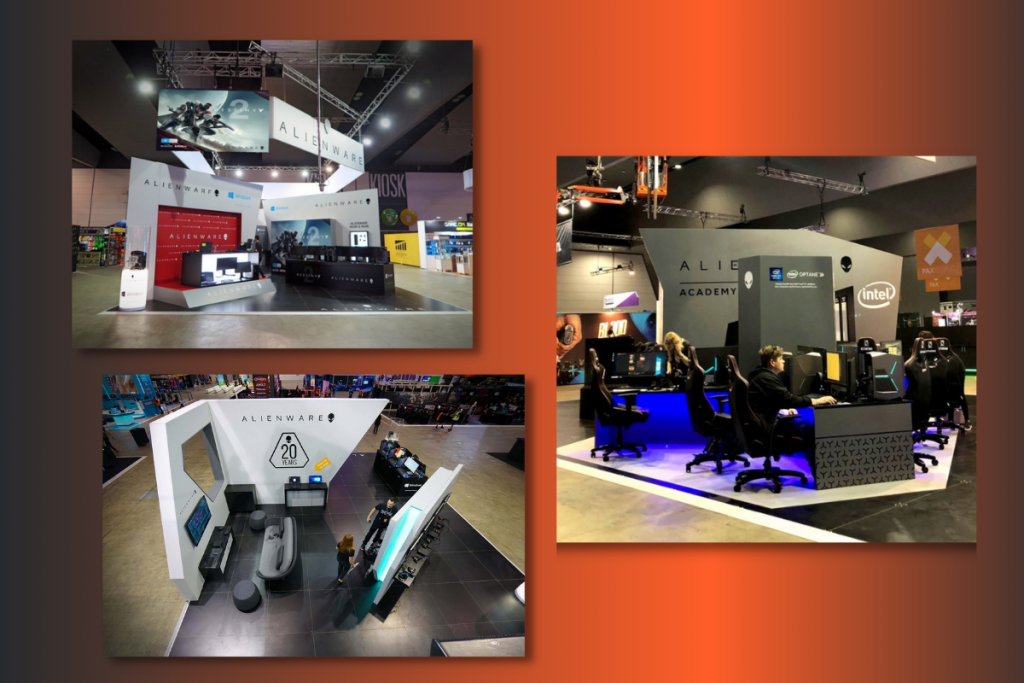 Alienware's booth design might look simple, but if you look closely at all the elements in their booth, you would realize that everything is polished to promote engagement and audience participation.
Given that the product they are promoting is a gaming headset, the perfect way for the attendees to try out the headset is to actually play a computer game. With that vision in mind, the booth has an ample amount of booth space for the equipment as well as foot traffic. Since people would want to check out the quality of the headset, there should be enough space where people can move around freely (as seen in the picture above).
Further, if you look at the picture above, you would see that the booth is not in the corner area of the convention centre. This kind of positioning helps increase foot traffic and encourage attendees to try some of their products or equipment.
Drive Curiosity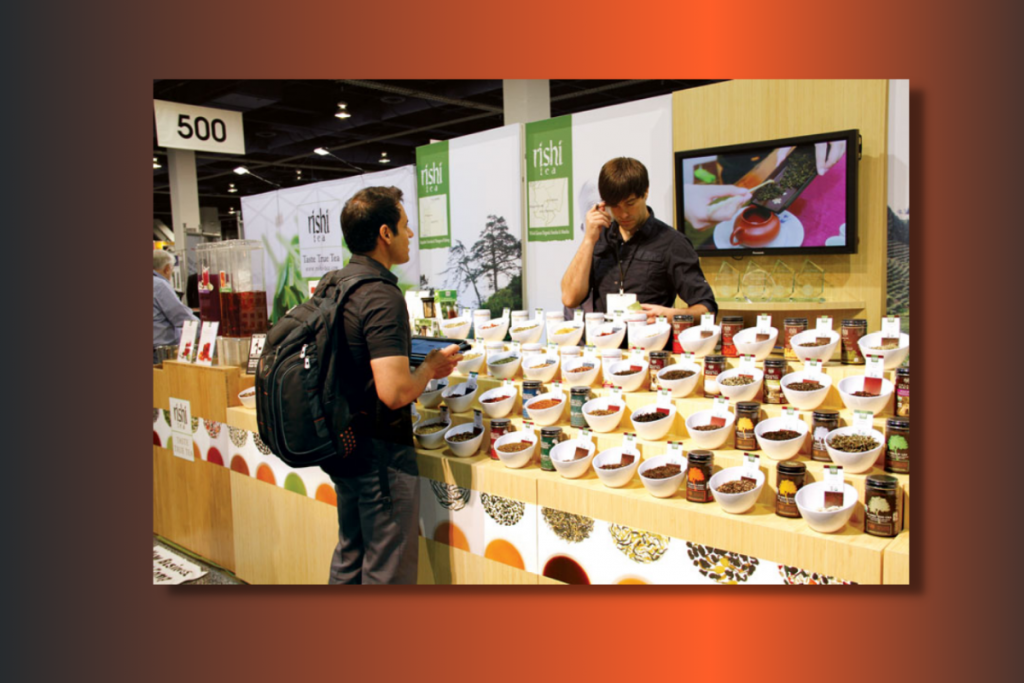 As we have mentioned before, you only have a few seconds to capture an attendees' attention. In order to do that, your booth needs to speak for you and your brand.
If you look at the example above from Rishi Tea, their booth is pretty eye-catching and the tea leaves displayed on the front would surely get people curious. The tea leaves were strategically placed that way in order to start a conversation and get people curious.
Just as when you are in a foreign country's marketplace, there are several things like fruits, spices, and vegetables that are not found in your home country, so the knee-jerk reaction you would have is to ask the vendor what it is. With that, you can treat trade show booths as a pop up display or marketplace inside a convention centre and your main goal is to impress your customers with your "fresh" or pretty-looking products.
Hospitality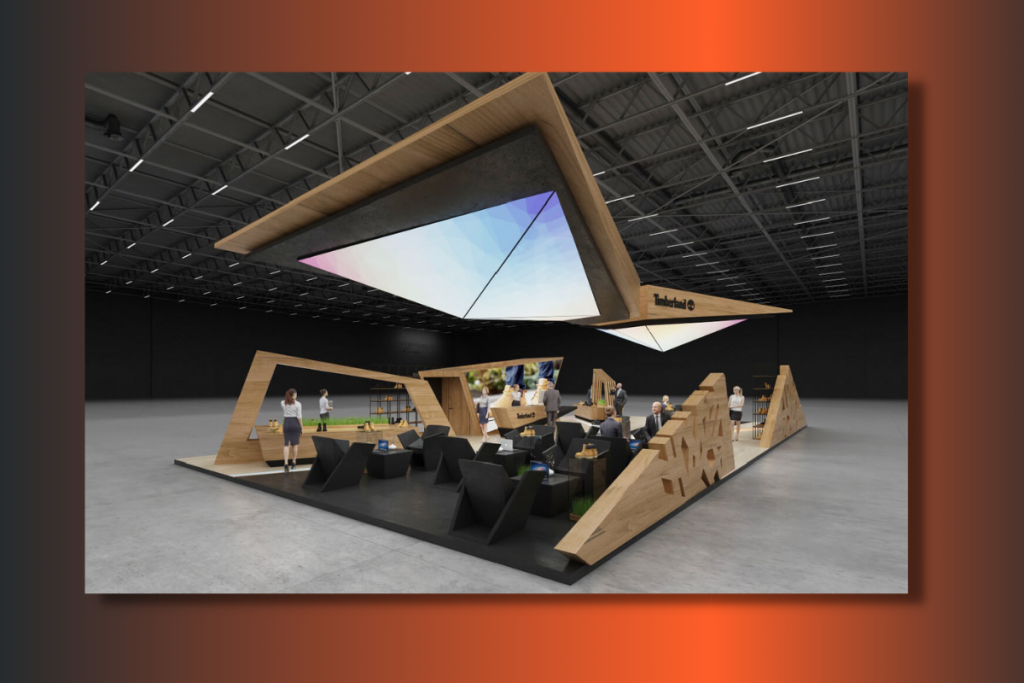 Hospitality does not always mean giving free foods or products to attendees. Sometimes, providing enough space for attendees to try their products and rest. As we all know, Timberland is a shoe company. But if you look at their booth above, you would see that there are more chairs than the gondola display for their products.
This type of design is very strategic because attendees would be compelled to rest and lounge in your booth because of the comfy chairs and wide space. Provided that the convention centre is extremely spacious, attendees would easily get tired and they would be more compelled to sit in your booth to rest.
With designs like these, you would surely increase foot traffic to your booth and your staff would be able to strike a deal with them just by simply attending your booth.
Entertainment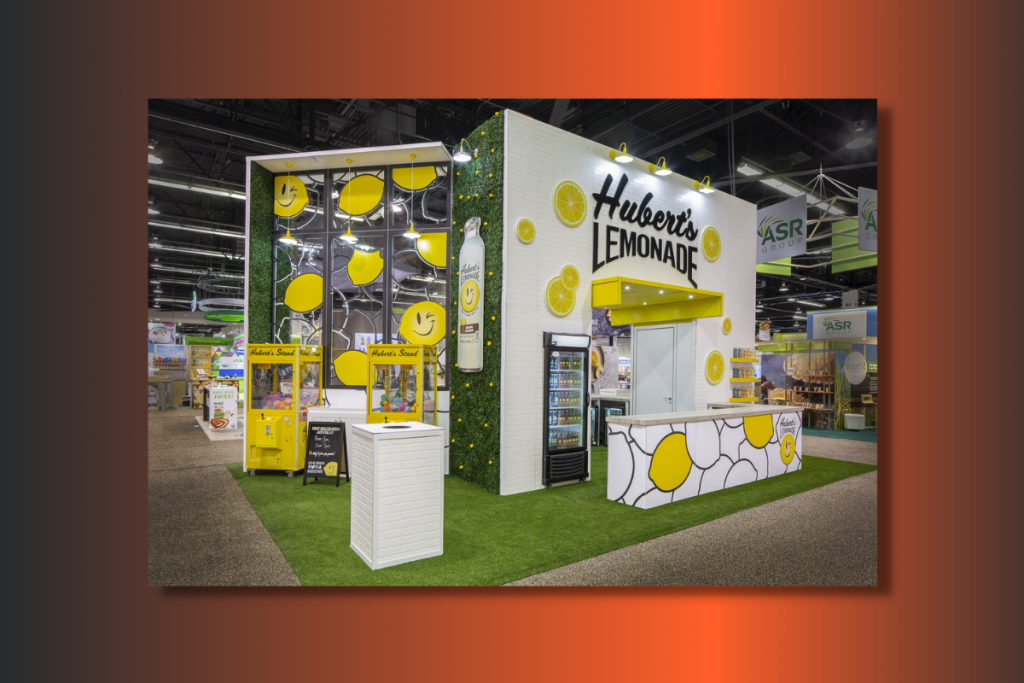 Another way to increase foot traffic to your booth is to have an entertainment corner. From the picture above, you would see that they have several claw machines in their booth. It is a great way to keep the attendees' excitement level so that they would not be bored during the event that easily.
But keep in mind that your entertainment corner should be aligned with your branding and marketing strategy as well. You cannot simply put a random claw machine in your booth and be done with it. You have to be creative and try to relate the entertainment corner to the overall concept of your booth/ product.
With that, we highly suggest you to consult with your brand, graphics, or marcom teams first before the discussion
Be Different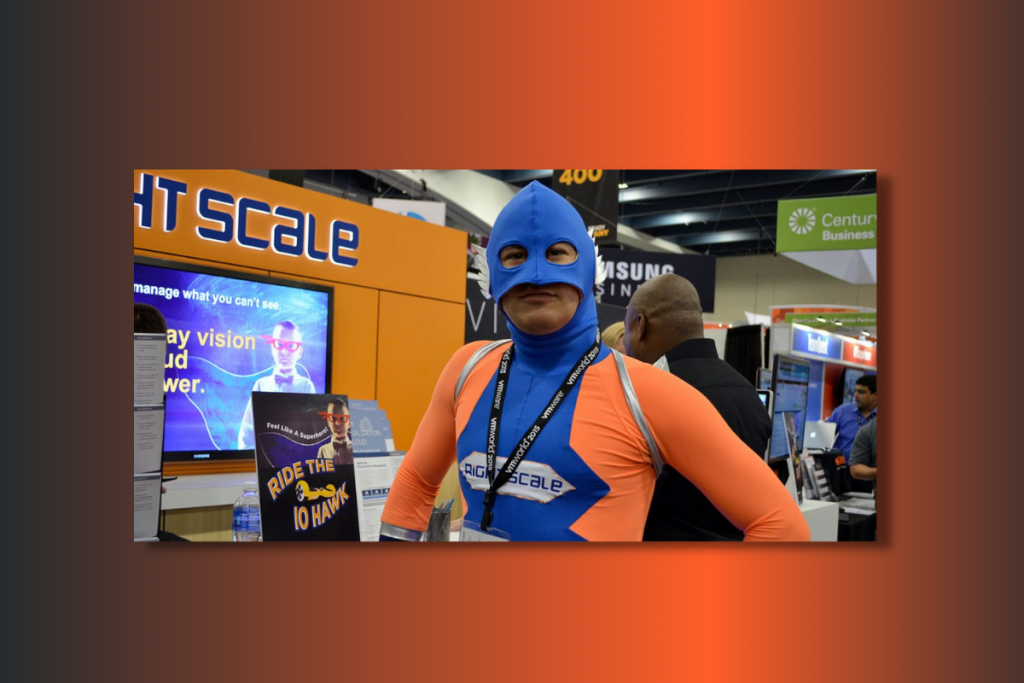 From your staff wearing costumes to funny booth designs, having a unique kind of booth with unique kinds of elements would surely help you stand out. Given that there are several brands in the trade show as well, you need to find a way to get people's attention.
By doing so, you would leave a lasting impression on the attendees and they are more likely to remember you or your products even after the event. Providing that you have a unique booth, attendees are more likely to remember you.
Another alternative or option that you should include in your list
Conclusion
All in all, when executed well, trade show booths have several benefits for your brand. It would not just help you increase brand or product awareness but it would also help you establish relationships and lasting connections with other people.
To briefly recapped, we have discussed :
Elements of a Trade Show Booth

Location
Booth Display
Staff
Event
Booth concepts and ideas

Attendee Participation
Drive Curiosity
Hospitality
Entertainment 
Be different
As always, if you have any questions or need staff for your next trade show booth be sure to contact Push Models today!